Allergies, Asthma & Ear Infections
The Asthma Epidemic
Asthma is one of the fastest growing chronic conditions in the United States with over 15 million Americans affected, including four million children. The death rate from asthma has increased more than 66% since 1980, with a record 6,600 annual deaths attributed to asthma.
Asthma
Asthma is the #1 cause of hospitalization in children. Chiropractic care can help prevent and reduce asthma related issues without medication. Drugs cover up the symptoms rather than focusing on prevention and many dangerous and hazardous side effects. Prevention, such as chiropractic adjustments are often more effective and more beneficial long term than medications. Dr. Gerard explains how Chiropractic can help with Asthma –>
"My asthma has improved since coming to Lakewoods. I have fewer attacks since I started coming to Lakewoods!" – Kay Ket.
Ear Infections
Non-drug alternative…doctors of chiropractic correct vertebral misalignments with safe and gentle maneuvers called chiropractic adjustments. Researchers state the spinal adjustments resulted in fewer episodes of otitis media (ear infections) and fewer surgical procedures compared to children who received usual care. See what Dr. Gerard has to say about ear infections to the right.
In a study of 46 children, all under the age of 5, 93% recovered with chiropractic intervention alone. Chiropractors believe the blockage of the Eustachian tube occurs when a tiny muscle called tensor veli palatini dysfunctions. V
Vertebral misalignments interfere with the nerve flow to the muscle. The dysfunction is cause by impingement of the nerve that comes from the spinal cord. Correcting the misalignment allows for proper nerve flow to the muscle and allows the Eustachian tube to drain properly.
"My family and I have been patients at Lakewoods Chiropractic for almost two months. We have all seen great results, my boyfriend works at UPS and he was at the point where he couldn't lift up our daughter anymore without being in pain. 7 weeks later of care and he can now lift her up and has minimal pain in his lower back. The best results have been with our two year old daughter, for one she is always asking me to go the doctor, that is what we call Lakewoods. She has had ear infections since the day she was born, and when she was 15 months old she had tried every antibiotic that they had available so she was subjected to getting tubes, an ear surgery. This past winter she was still getting ear infections constantly and I'm thinking here we go again. I started looking at other alternatives from the typical antibiotics and I found Lakewoods, she is now ear infection free for two months. This is huge because she hasn't not been sick for this long since she was born. People think that it is just normal for toddlers to always be sick, well I can tell you that it's not normal and there is hope for parents and kids at Lakewoods Chiropractic!" – Kiersten Larson
Allergies
Children or adults…60 million people suffer from allergies. Allergies occur due to poor immune system. One of the best ways to improve immune system function is to improve nervous system function. Dr. Gerard explains how Chiropractic helps allergies and sinus issues –>
Since the nervous system regulates the immune system, a properly functioning nervous system is better able to coordinated immune cell activity. Chiropractic adjustments have helped many allergy sufferers by improving the health of the nervous system.
"Ever since I was really little, I got allergies and sinus issues every Oct/Nov. This went on for 40 years. Being under chiropractic care has made all the difference.
If those issues arise, I feel I recover so much faster and it doesn't take such a toll on me. I love what chiropractic has done for me." – Charlie
Sinus Issues
Sinus issues affects millions each year and cost for care and medications are outrageous. Instead of resorting to drugs, chiropractic adjustments are being used as a preventative alternative. A weakened immune system is the culprit for many sinus related issues. Chiropractors all over the world have known this all along, that Chiropractic care boosts immune function.
"Since I started being adjusted I have noticed a huge improvement in my allergies. I have had less sinus pressure and congestion. It is at a more comfortable point." – Melissa McD.
Minnesota's Top Chiropractor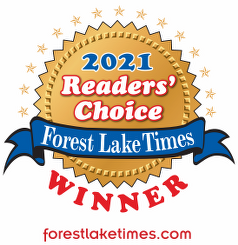 Contact Us
Address:
Lakewoods Chiropractic
255 Highway 97, # 2A,
Forest Lake, MN 55025
Phone: (651) 464-0800
E-Mail: [email protected]
Review Us
Recommended Links