Children's Issues
Strengthening Your Child's Immune System
The cornerstone of good health is a properly functioning immune system.
Strengthening the immune system of the entire family, starting with the children at birth, should be a top priority for all parents.
The job of the immune system is to protect and defend the body against infection from disease-producing microorganisms such as viruses, bacteria, fungi, and parasites that live in our environment.
MANY OF THE CHARACTERISTIC SYMPTOMS OF ILLNESS, FROM NASAL DISCHARGE TO FEVER AND SWOLLEN GLANDS, ARE SIGNS THAT THE NORMAL IMMUNE RESPONSE IS PROCEEDING ON SCHEDULE.
Asthma
Asthma is the #1 cause of hospitalization in children. Chiropractic care can help prevent and reduce asthma related issues without medication. Drugs cover up the symptoms rather than focusing on prevention and many dangerous and hazardous side effects. Prevention, such as chiropractic adjustments are often more effective and more beneficial long term than medications. Dr. Gerard explains how Chiropractic can help with Asthma –>
Autism
A child is diagnosed with autism every 16 minutes and is growing fast then the rate of AIDS and cancer combined. The latest research and studies link autism to childhood vaccines.
Chiropractic care offers an alternative to the conventional health care system. Chiropractic adjustments strengthen your child's immunity, decreasing the probability of getting sick. You can learn more about vaccinations to make an informed decision for you and your family.
ADHD
Stimulant-based treatment for ADHD began the 1930s. Today an increasing amount of ADHD kids are receiving additional mediations, such as anti-anxiety and anti-depressants, which can be extremely dangerous to combine.
Chiropractors work directly with the nervous system and the alignment of vertebra around it. A recent study on the positive changes with ADHD with chiropractic care showed behavior improvement, decrease in temper tantrums, enhanced speech quality and better short-term memory and best of all increased attention duration.
Bedwetting
Many children suffer from bedwetting. However, many children are getting amazing result with chiropractic care. A spinal misalignment puts direct pressure on the nervous system and decreases the body's ability to function properly.
Ear Infections
Non-drug alternative…doctors of chiropractic correct vertebral misalignments with safe and gentle maneuvers called chiropractic adjustments. Researchers state the spinal adjustments resulted in fewer episodes of otitis media (ear infections) and fewer surgical procedures compared to children who received usual care. See what Dr. Gerard has to say about ear infections to the right.
In a study of 46 children, all under the age of 5, 93% recovered with chiropractic intervention alone. Chiropractors believe the blockage of the Eustachian tube occurs when a tiny muscle called tensor veli palatini dysfunctions. V
Vertebral misalignments interfere with the nerve flow to the muscle. The dysfunction is cause by impingement of the nerve that comes from the spinal cord. Correcting the misalignment allows for proper nerve flow to the muscle and allows the Eustachian tube to drain properly.
Colic
"Our daughter was adjusted within her first 12 hours of life.  After the adjustment and since being under regular care, she is not fussy." – Roland and Vanessa
Scoliosis
Chiropractors are highly educated in the detection and treatment of scoliosis. Measurements of the spinal curvatures on the x-rays allow for proper diagnosis. Research shows that chiropractic adjustments reduces the lateral curvatures of the spine and decreases the need for surgery.
Other Children Testimonials
"My 5 year old son has been coming here for 5 months now. For a couple of years he was having growing pains in his legs at night, I noticed recently that it's been a long time since he has woken up with leg pain. I believe the adjustments have been very beneficial to his health!" – Julie Hol. & Jordan
Minnesota's Top Chiropractor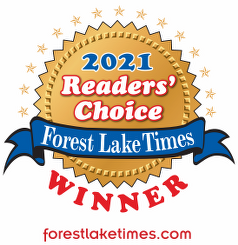 Contact Us
Address:
Lakewoods Chiropractic
255 Highway 97, # 2A,
Forest Lake, MN 55025
Phone: (651) 464-0800
E-Mail: [email protected]
Review Us
Recommended Links