Arthritis, Healthy Aging & Osteoporosis
Osteoporosis – Prevention Through Chiropractic
Osteoporosis is a major public health threat for 28 million Americans, 80% of whom are women. Annual treatment costs for osteoporosis exceed $15 billion.
One out of every two women and one in eight men over the age of 50 will have an osteoporosis-related fracture in their lifetime.
The impact of osteoporosis will become even more profound as the oldest of the baby boomers approach menopause, the stage of life when the bone loss that leads to osteoporosis begins to accelerate.
Arthritis
Arthritis is preventable.  Although arthritis affects million, there is a drug-free alternative.  Chiropractic adjustments correct misalignments of the body's joint.  When joints are misaligned, it causes stress on the joint.  In response, motion is restricted, bone spurs form and tension on surrounding muscles, tendons, and tissues occur.nt.
"I stand a lot taller! I sleep better! My rheumatoid arthritis pain level has come down! I am able to be more active for longer periods of time!" – Craig Hag.
"Chiropractic has improved my families lives! I can now happily watch my daughter do the things she loves!" – Vance
Healthy Aging & Osteoporosis
"I have more energy, I don't use my cpap machine anymore, and I have lost 20 pounds!" – Ron
Hip Pain
Hip pain can sometimes be referred pain or due to a misalignment of the spine or the hip joint itself. Misalignments of the low back often trigger hip discomfort. It only takes one misaligned vertebra to launch a chain reaction, causing misalignment in the pelvis, hips, and the rest of the low body.
"Nine months ago my wife convinced me I should see Dr. Gerard. I had a little pain in my hip from two years ago but could live with it. After the exam I realized my structure wasn't as good as I thought. After the first adjustment, I've had no pain in the hip or shoulder since. Over the next nine months my life was transformed through Maximized Living seminars. After nine months I found out I had lost ten points and dropped my cholesterol 9%! Dr. Gerard has helped me change my lifestyle so I can live to see my grandchildren get married and have great grandchildren! Thank you Dr. Gerard." – Tom Pau.
Minnesota's Top Chiropractor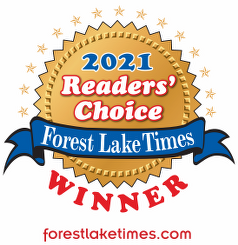 Contact Us
Address:
Lakewoods Chiropractic
255 Highway 97, # 2A,
Forest Lake, MN 55025
Phone: (651) 464-0800
E-Mail: [email protected]
Review Us
Recommended Links