Neck, Shoulder & Upper Back Pain
The Cervical Curve – Structure, Function and Optimal Health
The neck of the human body is a bio-mechanical marvel. It possesses a wide range of mobility in nearly every direction. The neck serves as a conduit for the major blood vessels to the brain and is the primary pathway of the central nervous
system. The cervical (neck) region is one of the most important areas of the body and a growing body of research clearly shows that its structural integrity and function are absolutely critical to overall health and healing.
The brain and the spinal cord make up the central nervous system. The spinal cord is often thought of as just a cable that transmits nerve messages, but it is actually a direct part of the brain. The spinal cord plays a crucial role in the health and homeostasis of the human body by sending and receiving billions of nerve messages every single second.
The Central Nervous System is so vital to overall health and functioning of the human body that it is protected by the hardest substance in the body, a series of vertebral bones that makeup the spinal
column.
Neck Pain
Stress is a leading cause of neck pain. But the most common cause of acute neck pain is whiplash, and if left untreated can lead into chronic neck pain. Chronic neck pain usually occurs due to untreated injuries and poor posture (ex. Sitting at a desk working on a computer).
"With scheduled adjustments, along with the use of the traction device and exercises provided, my neck and upper back are feeling much better." – Blair Len.
Shoulder Pain
Dysfunction of the cervical spine leads to stressed muscles not only in the neck, but also the entire shoulder girdle. Nerves may become trapped, the muscles then do not function properly and symptoms may occur.
"My shoulder pain is gone. I am in great overall health! I am able to be a very active person at 52. I am planting in my garden, hunting, fishing, and dancing. I could run a triathlon! Thank you Lakewoods Chiropractic." – Kevin Gry
More Back Pain Testimonials
"Since I started coming to Lakewoods Chiropractic I have been able to sleep through the night without neck and back pain. I also have improved in my Hockey playing, thanks Dr. Gerard." – Chris Mil.
"I can't remember not having low pain – especially with gardening. I just finished planting and my low back feels good. It's nice to not always think about my back. Thanks!"  – Cheryl Lec
"After my car accidents I had trouble sitting at my desk without crying in pain.  Now I have no pain and use no ibuprofin.  I rarely have headaches! I feel better than before the accident!" – Rachel Joh.
"Life has been improved. There is less pain in the neck, with more flexibility in the back. Also no back spasms in the lower spine area." – Collette Sch
Minnesota's Top Chiropractor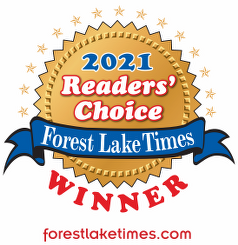 Contact Us
Address:
Lakewoods Chiropractic
255 Highway 97, # 2A,
Forest Lake, MN 55025
Phone: (651) 464-0800
E-Mail: [email protected]
Review Us
Recommended Links