Headaches
Headaches and Chiropractic
The negative impact of chronic headaches on quality of life, families, and productivity can be significant and is generally underrated by the medical profession.
Chronic use of aspirin actually promotes chronic tension headaches.
The National Headache Foundation estimates that over sixty percent of all children suffer from occasional headaches
Over 70% of all headaches arise from problems with the cervical spine and its related structures.
Common Headaches
Vertebral misalignments are common cause of headaches. Misalignments restrict the movement of the nerves and muscles, causing inflammation and direct impingement leading to headaches. Medications fail to alleviate headaches because they focus on only the symptom without addressing the underlying cause.
"I used to have headaches that would last 3-4 days at least once a week. Now, the headaches are not as severe and a lot less frequent! I also sleep much better after having chiropractic care!" – Teresa Nev.
"After having a car accident, I began to get regular severe headaches. Ken(on right), a coworker, recommended I come to Lakewoods to get help immediately. Now here I am a couple of months later, the headaches have disappeared, and I am so much better! Thank you Ken!"
"Back pain almost never flares up, and I haven't had a headache in about 2 weeks! Coming here was one of the best decisions I've ever made." – Alex L
Migraine Headaches
Migraines are commonly treated with medications…but research shows that these medications actually worsen symptoms and can lead to unwanted complication and side effects. 12% of the population suffers from migraines. Studies show chiropractic is highly effective in alleviating headaches and migraines. Click on the image to the right for an informational video.
"We've been coming to Lakewoods for 8 years now. We have seen the benefits of chiropractic care from a breech baby turned to headaches gone to healthy children who never visit the MD!" – Tony & Heidi
"I came in with a bad migraine…I walked out feeling better, and as the day went on I could function again! Wow!"
"I don't have migraine headaches anymore.  I am walking better!"
– Judy Ols.
More Headache Testimonials
"The biggest thing and reason I came is that I am having less headaches now.  I used to have them 2-3 times a week and I have only had three since starting a month ago!" – Roger Car
"Dr. Gerard and Dr. Gena have been fantastic! My headaches and low back pain have disappeared and I am stress free! You both are life savers!" – Kellie O'br.
"Since coming to Dr. Gerard and Dr. Gena my headaches have gone from 4 to 5 a month down to maybe 2 per month. So nice! A bonus was my very severe teeth sensitivity has completely gone away." – Sue Nic.
"I had a serious sport injury and fractured my cheek bone. My face looked terrible and my head hurt. Four days later, I saw Dr. Gerard and within the hour, my headache lifted, it was quite miraculous!" – Deni Sah.
Minnesota's Top Chiropractor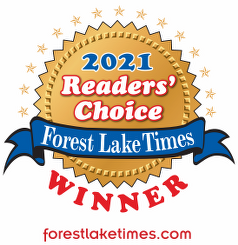 Contact Us
Address:
Lakewoods Chiropractic
255 Highway 97, # 2A,
Forest Lake, MN 55025
Phone: (651) 464-0800
E-Mail: [email protected]
Review Us
Recommended Links