What Patients Are Saying
Lakewoods Chiropractic thrives to provide 100% care with 100% compassion. We know that our patients are enduring unthinkable pain when they meet us, so we are here to provide them with the solution for a pain free life. Our inspiration stems from the countless lives that we have touched over the years. It fills our heart with great joy when our patients leave our office pain free and knowledgeable about how to protect themselves in their everyday lives.
More Testimonials
"All kinds of books and toys in the waiting room. Dr Jason adjust my 'crabbies' out and makes me feel better when I'm sick. Stickers and tattoo's! I like it when I come in and the girls say 'Hi Brookie!!!!' Dr. Jason always jokes around with me!!" – Brooke Murray (4 yrs old)
"After chiropractic care my arm and neck no longer tingle and go numb! I can play with my daughter and hold her without her asking if my arm is sore and if I need to stop or put her down. I'm also learning a lot so I can better my family's health and will hopefully instill good habits that last a lifetime-Thanks Dr. Jason!!" -Kellie Murray
"It has changed my life. My arm, back and neck is much improved. My health all around has chanced for the better. I eat better; I have lost 26lbs since Jan. 1, 2009. I also sleep better and less stress. I can't wait to see my cardiologist and stroke doctors. [I am a] five year cancer survivor." – Vicky Albarracin
"Getting adjusted has helped me have less headaches and to help with the stress in my life. I am able to cope better even with stress and I can concentrate better and I have not had to go to the ER for medicine for headaches. Thank you so much." – DeeDee Burket
"Dr. Jason has helped me in numerous ways. Headaches are VERY seldom and much more mild. My bad hip stays adjusted much longer now, resulting in less pain and more mobility. I also appreciate his ability to advise me in alternatives to taking drugs." – Madrene Gardner
"Since starting chiropractic care my back has been much better and I have been able to decrease the dosage in one of my blood pressure medications. I'm hopeful I will be able to be free of all medications soon."
– Teri Gave
"I am able to do so much more because I feel so much better. Gardening has become a joy again instead of a painful chore. I can pick up the grand children again-which is a true pleasure in my life. Thank you so much Dr. Gerard." – Joette Haggen
"It was an awesome experience! He is a very good speaker and kept our interest. All the videos were very powerful… (made us cry). All the facts he presented were all backed up by well known people or medical organizations. Our 15 year old really enjoyed learning about becoming healthier, and the surge training. The topic about sugar in foods was eye opening. We went out and purchased the supplements Dr. Jason suggested. We feel better already. The piece on toxins was educational. It made us more aware of what we put in our bodies (eat and drink). We are now reading labels." – Bob and Jodie Kent
"Myself and my family have been coming here for 6 plus years and would not trade the time for anything. I have felt better than ever all the time. I do not have headaches anymore. If I get sick, it is for a very short time, never do I call in sick to work unless I want t day off!!! To me I am not getting OLDER!!!!" – Gregory Red.
Minnesota's Top Chiropractor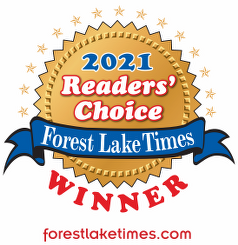 Contact Us
Address:
Lakewoods Chiropractic
255 Highway 97, # 2A,
Forest Lake, MN 55025
Phone: (651) 464-0800
E-Mail: [email protected]
Review Us
Recommended Links