Fibromyalgia
Fibromyalgia – The Chiropractic Approach
The National Foundation for Fibromyalgia estimates that as many as 12 million Americans suffer from Fibromyalgia, yet remain undiagnosed because of its elusive nature.
Up to 28% of adults with Fibromyalgia report the onset of symptoms during childhood.
Fibromyalgia is the second most common disorder seen by rheumatologists and is more than twice as common as rheumatoid arthritis.
Women are ten times more likely than men to suffer from Fibromyalgia.
The most common cause of chronic musculoskeletal pain and fatigue, Fibromyalgia affects 4% of the population. Disorders of the Central Nervous System are among the causes of Fibromyalgia. Dr. Gerard explains how Chirorpactic helps with Fibromyalgia –>
The dysfunctions of the CNS include pain perception problems, neurochemical imbalances, decrease in pain threshold, and inconsistent serotonin levels. Serotonin is a chemical that regulates mood, memory, and pain perception. Ongoing research indicates that chiropractic care may alleviate fibromyalgia. Subjects noted significant reduction in pain intensity, lessened fatigue, and improved sleep quality.
"Dr. Gerard is a miracle worker!  Having lived with major pain and limitations due to fibromyalgia [and many other ailments] for years I am now off meds for everything!  I was at Lakewoods to prove chiropractic real or a fraud after having no luck with chiropractors in the past.  I was on thirty medications and am down to one for thydroid.  The education and exercise elements of Lakewoods practice are truly remarkable!" – Rita Kis.
Minnesota's Top Chiropractor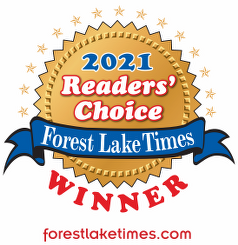 Contact Us
Address:
Lakewoods Chiropractic
255 Highway 97, # 2A,
Forest Lake, MN 55025
Phone: (651) 464-0800
E-Mail: [email protected]
Review Us
Recommended Links