Our Philosophy
Not all chiropractors are alike. Although they go by the same name, chiropractors today differ greatly in technique and philosophy. There are two types of chiropractors.
The traditional philosophy that chiropractic was based on has never changed, but for social acceptance, on a cultural level some chiropractors have. As a result, when patients go to different chiropractors they get different opinions, programs of care and results, not to mention costs.
This can be both confusing and frustrating to the person seeking care. If expectations aren't met, patients stop chiropractic care, and never get to experience the great results chiropractic care can give them. This happens too often. "Why?" you may be thinking. Because most people do not truly understand how chiropractic fits into addressing any current issues and then to develop their health over the course of a lifetime.
There are basically two types of chiropractors. The musculoskeletal chiropractors who work on symptom relief and the traditional wellness chiropractors who work on subluxation and lifestyle management. Lets look at the two types of chiropractors so you can choose one.
The Symptom Relief Chiropractor
Like the typical M.D., this type of chiropractor primarily focuses on relief of symptoms such as back aches and headaches. Manipulations are done to the spine to decompress the joints, free fixations and reduce pain. I n addition, electrotherapies such as ultrasound, diathermy, electrostimulations, tens units and laser acupuncture are often used.
Length of treatment and frequency of adjustments are usually dictated by the patient's symptoms or insurance coverage. Monitoring your progress by symptoms and insurance coverage, usually means shorter overall treatment time, but still leaves the you far short of correcting the cause of your symptom.
You may feel better temporarily, but since the cause (subluxation) of your symptom has not been corrected, the subluxation degenerates silently and results in damage and dysfunction to discs, joints and whatever part of your body the nerve supplies. The bottom line is that your problem is still with you, but it's just below a level you can detect.
"I was two weeks away from surgery for a herniated disk and came here as a last resort. After one month, my pain was gone and I continue to get adjusted on a regular basis to make sure I stay healthy. Thanks!" – Alyce
The Traditional / Wellness Chiropractor
This type of chiropractor practices the traditional wellness philosophy of chiropractic. Which is subluxation correction and lifestyle management.
Simply put, a subluxation is a misaligned vertebrae due to an overload of physical, chemical and emotional stresses experienced by the body that interfere with the nerve impulses.
Nerve impulse is the electrical impulse from the brain that regulates all function of the body and keeps us alive. Although the traditional/wellness chiropractor wants his/her practice members to "feel better," the primary focus is removing the nerve interference (subluxation).
By maximizing the integrity of the vital communication between brain and body, the body's wellness i.e. health potential and ability to function, improves. This is done through a health development consisting of specific chiropractic adjustments and lifestyle modifications.
The length of correction and frequency of adjustment is determined by the severity of the patient's subluxations, the length of time that the subluxations have been present, the age, current stress levels, weight of the practice member and willingness to change.
Symptoms may be gone long before the nerve system is functioning optimally. Adjustment schedules vary from one person to the next due to the uniqueness we all possess. An initial clearing phase is completed prior to moving into a wellness schedule.
If your health philosophy is wellness, which means promoting optimum health levels and experiencing a full life, then choose the traditional/wellness chiropractor.
Minnesota's Top Chiropractor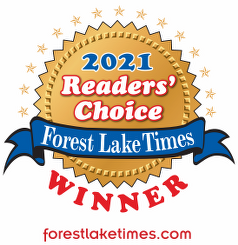 Contact Us
Address:
Lakewoods Chiropractic
255 Highway 97, # 2A,
Forest Lake, MN 55025
Phone: (651) 464-0800
E-Mail: [email protected]
Review Us
Recommended Links